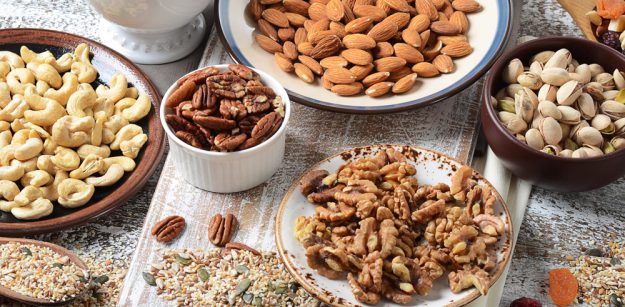 What's the Role of Nuts in Beauty Products?
Walnuts, hazelnuts, macadamia and almonds. It appears that nuts and kernels are as much popular in cooking as they are in beauty rituals. Not only do they contain a lot of precious nutrients but also all of them are well-tolerated by all skin types. These all-natural substances are proven to have many benefits for skin and hair. What it particular?
Natural Nut-Rich Beauty Products
Beauty products formulated with nuts and kernels are quite a novelty and they are taking the beauty market by storm. Even though they have been used in various cosmetics from some time now, it has never been emphasized that a given cosmetic contains one of the following:
nut/kernel extracts
nut/kernel oils
Is it a good idea to reach for beauty products enriched with nuts? Sure, it is, unless you're allergic to nuts which nowadays is a fairly common condition. However, if you don't suffer from nut allergy, you're free to introduce nutty formulas either to your daily beauty rituals or weekly/monthly treatments. Beauty products enriched with nuts are all-natural and deeply nourishing, meaning that they bring nothing but s positive effect.
Overview of Nuts Used in Beauty Products
What are the nuts used most commonly in beauty products?
Macadamia – round and hard nuts growing in exotic trees brim with nutrients. They contain numerous essential A, E and B-group vitamins, as well as minerals like calcium, phosphor, potassium, iron, magnesium and zinc.
Hazelnuts – they are the fruit of the hazel common to Europe. The thing that makes hazelnuts different from other nuts is a huge concentration of E vitamin, also known as the vitamin of youth and fertility. Apart from it, hazelnuts also contain B-group vitamins, potassium, calcium, phosphorus and a load of EFAs.
Walnuts – they are bigger than other nuts and their shape resembles… human brain. Is this a reason why it is suggested eating walnuts for better memory? Owing to high concentrations of phosphorus, they improve concentration and make memorizing easier. Additionally, walnuts contain iron, magnesium, potassium as well as B6 and E vitamins.
Almonds – almonds, which are almond tree seeds in fact aren't nuts but, interestingly, they are given the title of the king of nuts. Their distinctive feature is a high E and B3 vitamin concentration. Almonds are also proven to be full of fiber. Lastly, they contain unsaturated fatty acids and minerals, including this precious potassium.
Argan kernels – they are definitely the most popular nuts used in beauty but rarely used in cooking. Called the gold of Morocco, argan kernels contain over 100 various nutrients, including essential fatty acids, plant sterols, vitamin E and squalane.
Nuts in the Beauty Industry – Applications and Properties
The effects created by nut-rich beauty products depend on the cosmetic you choose, which is obvious, the types of nuts used and their concentrations. Still, there are some common effects that all nuts have on the skin and hair. Nuts added to beauty products
revive and deliver precious nutrients
stimulate repair and self-healing processes
are antioxidants, and some of them are anti-ageing
retain moisture and soften skin
makes hair shiny and intensify its color
Most commonly nut extracts and oils are added to skincare products such as creams and balms. Rarely are they found in serums and lightweight products like lotions. When it comes to hair products, nut oils are often incorporated into masks and conditioners. There are also oil blends destined for various hair types. In most cases such products are formulated with macadamia, argan and almond oils.