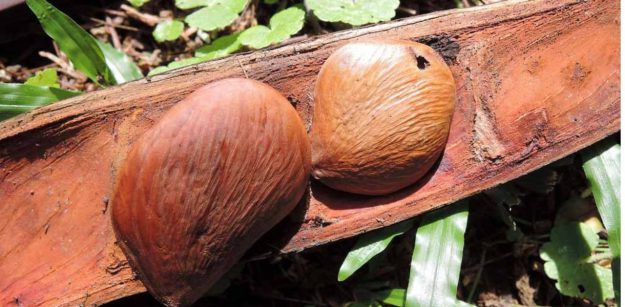 Oil from the seeds of Amazon tree, pracaxi oil: properties, application, opinions
Pracaxi oil is one of the less popular vegetable oils. It is used for the production of exclusive hair care cosmetics. Despite its valuable properties, pracaxi oil is very rarely found in cosmetic products. How come? It's mainly due to the troublesome process of extracting this oil – on about 200 flowers there is only one fruit from which it can be produced. All this makes the pracaxi oil a luxury and precious product. Get to know it better: pracaxi oil, its properties and application.
Pracaxi oil INCI: Pentaclethra Macroloba Seed Oil
Pracaxi oil – extraction and composition
Pracaxi oil is obtained from the fruit of the Pracaxi tree in the process of cold pressing of the flesh and seeds, which prevents the loss of its valuable properties. Seeds of pracaxi oil contain approx. 48% fat, approx. 28% protein and approx. 14% carbohydrates. Pracaxi oil is famous for its 50% oleic acid content and 19% behenic acid content. Oleic acid prevents hair loss and stimulates its growth, and behenic acid gives the hair shine, nourishes and protects the hair fibre. In turn, lignoceric acid, which is also present in pracaxi oil, has strong moisturizing properties.
Pracaxi oil – properties and cosmetic application
Pracaxi oil and its effect on the skin
Pracaxi oil is used for skin problems, such as scars, stretch marks, blemishes and acne lesions.
Pracaxi oil and its effect on hair
Pracaxi oil strengthens the bulbs, and thus the hair, so it prevents excessive hair loss. Due to its regenerative and nourishing properties, pracaxi oil protects hair ends from splitting, smoothes it, facilitates combing and accelerates drying. It has a strong moisturizing and shine-increasing effect. It protects the hair from solar radiation, pollution of the external environment and the drying effect of ingredients contained in cleansing and colouring cosmetics. Pracaxi oil prevents frizz and static, and sometimes also brightens the bands by adding bright highlights and natural glow.
How to apply pracaxi oil to your hair?
Pracaxi oil has a fluid consistency, which facilitates its application and accelerates absorption into the scalp and hair. It does not leave an oily layer and does not stick hair, but it can get clothes and skin dirty.
Pracaxi oil can be applied to dry or wet hair. In order to apply it to dry hair, first, warm up a small amount of oil in the palms of your hands, spread it evenly over your hair (no the scalp) and wait for it to dry – thanks to that your hair will be moisturized and will get a nice radiant look. However, in order to apply pracaxi oil to wet hair, rinse the lather created by the shampoo and drain the excess water with a paper towel, then wash off the oils and apply a conditioner to your hair.
Pracaxi oil can be used on its own or as a component of masks and shampoos. When added to the hair mask, it will soften the action of hair dyes with a high concentration of ammonia. What's more, it will moisturize, strengthen and regenerate the hair.
What kind of hair does the pracaxi oil match?
Pracaxi oil is recommended for the care of all types of hair and scalp. It does not contain artificial ingredients, dyes, parabens and silicones, however, before the first application, it is worth performing an allergy test. If it is successful, after a few days you can start using pracaxi oil regularly.
Pracaxi oil – price
Due to the tedious process of obtaining, the price of pracaxi oil is high. Therefore, pracaxi oil is not a popular component of cosmetics for hair care, and especially for the skin. Nevertheless, its price is adequate to the effects of its regular use.
Pracaxi oil – reviews
Pracaxi oil gathers positive opinions among people who used it. Not only is it widely used in the treatment of skin diseases, it also perfectly nourishes hair. The fact that the pracaxi oil is beneficial for all types of hair porosity, influences the positive opinions about it.