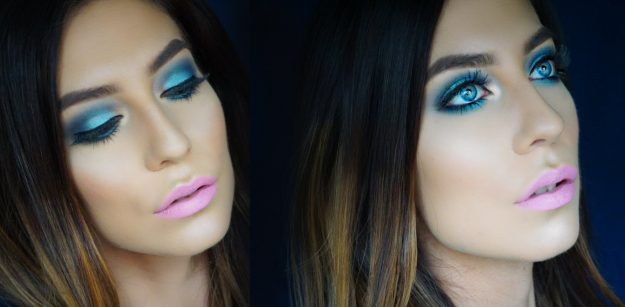 Spring – Summer 2016 Trends in make-up
In the spring-summer 2016 season main feature of make-up will be.. lack of perfection. It is particularly noticeable in eye make-up and application of the eyeliner or eye shadows. Classical straight line on the eyelids slowly goes out of date. Its place is taken over by thick, irregular and extravagant line in various colours. Very fashionable will be spots, blots and dots in external corners of the eye and on the eyelids. Expressive lines can be drawn right under the browridge and on the eye crease.
2016 will be dominated by matt lips. We can forget about glossy or shimmering flakes and particles in lipsticks. Newest trend is about deprived of gloss lips, however, painted with lipsticks in intense colours. We can expect some big come back from the, so called ombre effect on the lips. This year will be dominate by red, burgundy, blue and gold colours, which will fit perfectly with the subtle eye make-up and so called "no make-up".
Another beauty novelty in the spring-summer season will be very long lashes. And its not just about individual false lashes or strips. We can draw eyelashes with the eyeliner or black pencil. This will give possibility of creation all types of shapes and sizes of the new lashes. If we decide on long, black and interesting lashes, then the rest of the make-up must be tone down.
Black lashes will look great with the next top trend of 2016, which is black eyeshadow. It can be applied on the eyelid or above crease as lines or big spots. Blended above the eyelid will give strong make-up – perfect for courageous girls. Furthermore, we will perform eye make-up in a Bollywood style or rock'n'roll style. Wild look can be soften with a bit of brocade pigment applied on the inner corner of the eye.
Spring and summer are a time of the intense and juice colours. It is similar with the make-up. In 2016 most fashionable will be multicolour eye make-up; blue, celadon and pink shades will rule. The appearance should remind of freshness, energy, fun and spring climate. But yet again this make-up is rather dedicated for a brave girls.
One of more interesting make-up trends is brocade on the eyelid. With the eyeliner or an eyeshadow we can create colourful and trendy look. Brocade should be applied on the entire eyelid and above the eyelid, along the lashes line or in one of the eye corners. If we decide on purchase of this cosmetic, we should also supply ourselves with good make-up remover, which will remove all the small particles.