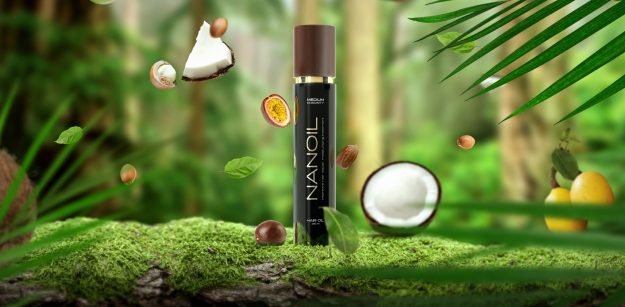 Nanoil Hair Oil – Take control over your hair
Dream Hair? Naturally, the healthy, smooth and glossy hair, professionally called low porosity hair. Unfortunately, in spite of its numerous benefits, it is much harder to style or condition. Here helpful will be Nanoil for low porosity hair – with natural oils complex.
Nanoil hair oil has three versions, with the one dedicated to style and protect hair. Low porosity hair does not require significant regeneration. Therefore this action is provided by Nanoil for high porosity hair that is overly damaged. Although, the most frequently chosen version is Nanoil for medium porosity hair, i.e. normal.
When is the best time for you to try Nanoil for low porosity hair? Every time you want to take care of hair and scalp. In particular, when you have a problem with unruly hair, hard to style. Also in the moments when your hair is regularly subjected to the sun radiation and high temperatures. Use of nanoil for low porosity hair ensures four important effects:
Styling is easier due to oil's small particles.
Hair is full of volume.
Healthy and vital hair thanks to nine oils.
Strands delight with thickness and length like never before.
Learn more on the action of Nanoil for low porosity hair!
1. Speeds up drying time
How can you tell whether your hair has low porosity? The indication of low porosity is often hair weak ability to absorb water. It means that hair's hard to wet. If you finally manage to do it, it is even more difficult to dry it.
To the rescue of heavy with water hair, comes Nanoil for low porosity hair, that speeds up drying time – whether natural or with blow dryer help. How's this possible? Small particles of oils in Nanoil for low porosity hair penetrate inner hair structures and push out water. The principle here is oil's insolubility in water, though not every oil has the same action. Only Nanoil for low porosity hair contains such a small particles of saturated fatty acids that can penetrate hair through the tightly adhering hair cuticles coating.
2. Easier styling
The characteristic to straight low porosity hair – smoother, is not entirely positive. As far as you like straight and dull hair, everything is in perfect order. The problem appears with styling when hair refuses to curl, overly fall out from all the ties and is impossible to lift it at roots.
Also here, an invaluable is the help of Nanoil for low porosity hair. It's a perfect match for tight hair structure and allows more. First, natural oils make stylisation cosmetics absorb easier because without it all products would settle on the hair surface and cause additional weighting down. Second, oils matched with hair porosity can extract and emphasise natural hair coil without the use of heat. Nanoil for low porosity hair can do it.
3. Heat protection
Low porosity is not everlasting, and you have to be aware that any time it can change. Then, hair condition will worsen because raising cuticles allow all the nourishing ingredients and water to escape. Particularly high temperature, for example, a curler, can cause the cuticles raise.
Nanoil for low porosity hair ensures heat protection due to argan oil in the composition. Natural oils complex coats hair with an invisible layer that protects sensitive hair structures against damage as a result of high temperature. It prevents raise of cuticles and excess water loss.
4. Protection against the sun radiation
Hair with low porosity can be mostly observed in the equatorial regions of Asia, for example, on the Indian subcontinent. This is also where hair oiling tradition came to life. Due to the climate, hair is there constantly subjected to the sun radiation.
Perfectly made Nanoil for low porosity hair efficiently replaces head wrapping. No fabric can protect hair against dehydration, while natural oils can, because are emollients. The formula of this Nanoil version contains not only nine vegetable oils with the best protective action but also UV filter. Double hair protection is possible only in this product.
5. Conditions scalp
Hair health in a significant way depends on scalp condition. If it's irritated, dry or sebaceous glands do not work as they should, there can be problems such as dandruff, greasy roots, excess hair loss or skin diseases.
Regular application of Nanoil for low porosity hair helps you take proper care of cells and glands efficient work. Oils can regulate scalp pH and work of sebaceous glands, which then stop producing excess amounts of sebum. Thanks to it, there is no problem of greasy roots or dandruff. Nanoil hair oil effectively conditions scalp, strengthens hair bulbs and prevents hair loss. Due to ingredients such as two innovative substances – kerastim and baicapil – hair growth can even speed up.
LUXURIOUS NATURALNESS
Nanoil for low porosity hair can work this way because of nine natural oils enriched with six enhancing ingredients. This formula is entirely paraben, silicone and alcohol-free. It combines exclusively natural and nourishing substances matching all hair needs.
What will we find in the composition? Siberian pine oil, coconut oil, argan oil, castor oil, shea butter, cupuacu butter, passion fruit oil, babassu oil and monoi oil. Additional ingredients are panthenol, Baicapil for hair growth, Kerastim with anti-hair loss action, vitamins A and E, but also UV filter.
The formula is feather-light in spite of the high amount of vegetable butter with significantly thicker texture. Nanoil for low porosity hair is suitable for both hair and scalp application. Manufacturer leaves considerable discretion when it comes to the method of use – on dry or wet hair, for regular hair oiling or in the bowl, overnight or just for an hour, before or after hair wash, for easier styling or throughout the day. More information on the official webpage.