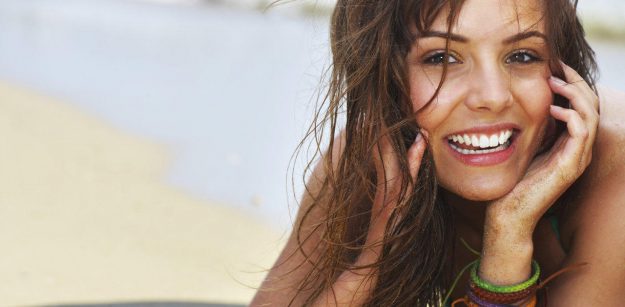 How to look beautiful in the summer and when should you quit make-up?
We want to look beautiful in the summer. We put on colourful dresses, tie romantic plaits and use light cosmetics. What other rules you need to follow in order to feel good and fresh throughout the summer? Meet checked out patents on summer make-up and skin care.
Skin care and make-up in the summer are quite a challenge. During hot days, skin looses more water, and it directly links with more sweat. What is more, in accelerated tempo are created blackheads and pores are often clogged by sebum, dust, sweat, dead skin cells and cosmetics. Negative influence on skin has also sun. UV radiation can cause discolourations or wrinkles. For this reason, use creams with sun filters SPF 50, make-up and beauty treatments limit to minimum and choose cosmetics with light consistency. Supply your cosmetic bag with transparent make-up base, highlighter, blusher and pressed matte powder.
In the summer time you can quit eye make-up. Thick cat's eye lines can be overwhelming for the light summer make-up. What is more, eyeliner could melt down or smudge. Much better will be waterproof mascara or eye pencil in some trendy bright colour (turquoise, aquamarine, lemon or pink). For lips make-up you will need protective lip balm for the day time and colourful lipstick for evening party.
Summer is a time when you have to take special care of your hair. Sun, salty water and dry wind can damage and dry hair or deprive them of natural gloss. Use moisturising hair masks, conditioners and shampoos. Avoid hair colourisation – ammonia contained in hair dye can rise hair cuticles and cause sun to dry strands and scalp. Condition hair ends. Apply oils, leave-in conditioners and hair masks on them. For hair stylisation use mousse with thermo-protection.
During the summer use sun and beautiful weather as much as you can. Do not forget about sun filters, self-tans or protective and moisturising masks. Take out dresses and t-shirts out of your wardrobe and just enjoy sun light!