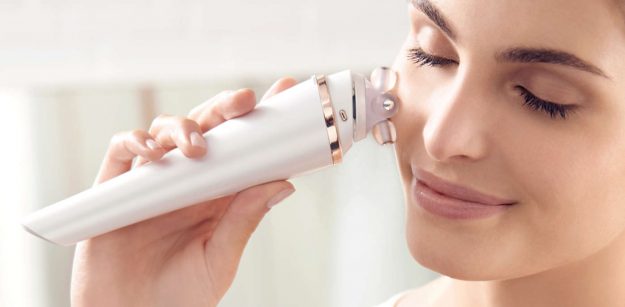 Skin as good as new: VisaPure Advanced by Philips
There is no better thing like taking care of face skin at home. Philips knows this is what each women really appreciate – freeing their face skin from all impurities that has gathered during a day. Therefore, VisaPure Advanced, a device facilitating this procedure, is now available at stores. What is so exceptional about this gadget by Philips?
Firstly, VisaPure Advanced works in a few different ways. It unclogs skin pores, gives massage, stimulates blood circulation in face skin cells as it reduces dark circles around eyes and swellings. Secondly, the device is equipped with special technology which distinguishes type of the brush installed. This kind of a feature enables automatic set of rotation level and number of vibrations assigned to a particular head. Thirdly, VisaPure Advanced facilitates distribution and absorption of nourishing substances (included into composition of cleansing and purifying cosmetics) deep into all skin layers. Fourthly, all the heads are easy to manage. They require only to be washed after each usage with fresh water and soap. Fifthly, the device has two levels of work intensity (up to 120 vibrations per second).
VisaPure Advanced by Philips is recommended for cleansing skin of cheeks, chest, chin, forehead, neck and nose. The brushes of the device are able to rotate both ways, left and right. What is more, they are easy to store, cleanse and dry. The great news is that VisaPure Advanced can be used while showering or bathing – it is waterproof. All care cosmetics available currently on the market can be used for VisaPure Advanced by Philips treatment. Thanks to led indicators, a user is informed about plenty of issues, such as for example level of battery life. The battery in turn, should be charged for six hours.
VisaPure Advanced set by Philips goes with a stand for brush heads, the power supply unit of 100-240 V and plenty of cleansing brushes (for deep skin pores unclogging, for skin with discolorations, for sensitive and normal skin, super delicate brush and skin exfoliating brush).