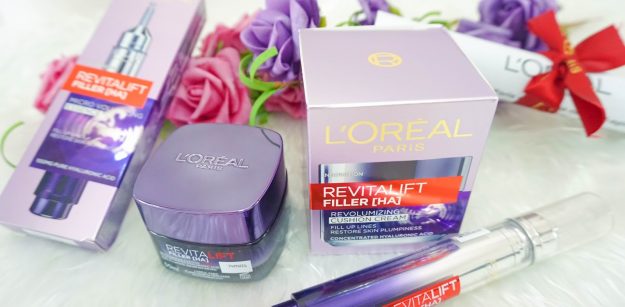 REVITALIFT FILLER [HA] collection by L'oreal Paris
A few weeks ago, shop shelves welcomed a new cosmetic by L'oreal Paris for mature skin. Revitalift Filler [Ha] was designed for women who desire to restore the youthful look of skin they use to have. How it is possible for a cream to accomplish this task?
Volume of skin versus youthful look
Innovative approach of L'oreal Paris concerning mature skin has born fruits in a form of discovery, that wrinkle development is not only caused by hydration loss but also due to reduction of skin volume. But what does it mean? In short, skin of healthy volume equals elastic and firm skin. This in turn provides effect of restoration.
With age, our skin becomes less elastic, so it loses the volume. The most prone to volume loss face parts are cheeks (their upper part) as well as jawline. And these are the very parts of a face where Revitalift Filler by L'oreal works on. This problem is a resultant of many features, like for example oxidative stress, hormones, level of fat tissue and muscle tension.
Hyaluronic activator
Natural element of skin, crucial for epidermis and dermis cells, is hyaluronic acid. It is the very substance responsible for appropriate skin moisture. Actually, it is a molecule that is able to store water that is one thousand heavier than the molecule's weight. What is more, hyaluronic acid accelerates skin regeneration process.
With this in mind, there is nothing surprising that Revitalift Filler [Ha] by L'oreal Paris takes advantage of this precious molecule – hyaluronic acid. Revitalift Filler [HA] has the highest concentration of hyaluronic acid, that any cosmetic available currently on the market contains (not only L'oreal Paris products).
A few-week treatment restores vitality
Action of Revitalift Filler [HA] by L'oreal Paris is strictly defined – its aim is to counteract signs of ageing as well as eliminate the ones, which have already developed. Formula of hyaluronic activator restores firmness of cheek skin, refills wrinkles and gifts skin with healthy volume.
Results of a consumer test as well as clinic research proven that after four weeks of L'oreal Paris Revitalift Filler application, skin volume increases about approximately 26% and wrinkles are reduced about 24%.