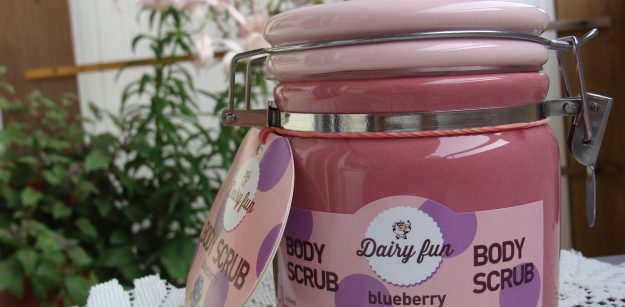 Dairy Fun – a Bath Line by Delia
Original fragrances, eye-catching colours, nourishing bath cosmetics – that's what is hidden behind new Dairy Fun line from Delia. In the offer of this line we will find scrubs, butters and lotions, salts, gels and bath bombs, but also hand cream. Dairy Fun is a milk-fruit edition of aromatic nourishing cosmetics in very special packagings, i.e. ceramic jars and jugs.
Milk-Fruit bath by Dairy Fun
Dairy Fun is a line of beauty products dedicated for bath, which were enriched with natural minerals and nourishing ingredients. It has refreshing, cleansing, but also relaxing effects. All thanks to extraordinary aromas offered by Delia Cosmetics. In their offer we will find scents of: yogurt, milk and honey, coconut, chocolate or fruits (tempting blueberry, aromatic strawberry or intense peach). Wide choice of fragrances allows you to fill the room with your favourite scent of Dairy Fun, which will have relaxing effect. Delia Cosmetics change an ordinary bath into moment of relaxation and chosen product will actively moisturise and enrich your skin with nourishing ingredients.
Second life of Dairy Fun
Delia Cosmetics is an eco manufacturer, who supports "give second life to the packaging" action. Cosmetics from newest Dairy Fun line were packed into original ceramic jars and jugs. Everyone can help environment and not throw away another packaging, which cannot be recycled. Delia proposes a creativity game – buy your favourite Dairy Fun product and change an empty jug into vase, pen holder or an interesting decoration on a shelf. Ceramic jar of bath salt can become holder for cotton pads, scrunchy or… candy! Delia Cosmetics actively protects the environment and thanks to that also deserves an attention of lovers of aromatic and nourishing baths.