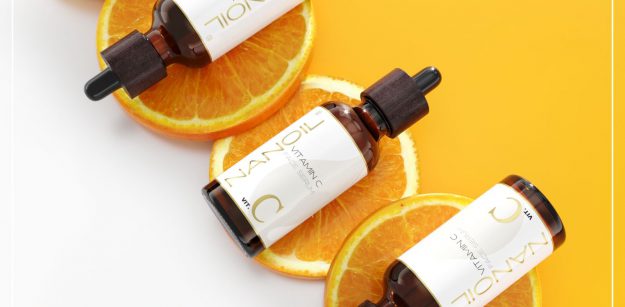 Nanoil vitamin C face serum. A luxurious brightening elixir

Bring back the gorgeous and youthful appearance to your skin with the concentrated formula of Nanoil Vitamin C serum! In a beautifully designed bottle you will find even a more beautiful skin product! This face serum owes its huge potential to the stable form of vitamin C and a Hindu plant root extract. The innovative version of vitamin C incorporated into a diligently-developed formula offer you a top-notch skin treatment. You need to apply the vitamin C serum just once to understand that none of the serums used so far has given you this much. Keep reading to see how many benefits Nanoil has in store for you.
Nanoil Vitamin C Face Serum: Basic info
Effects: anti-ageing, nourishment, smooth skin, hydration, even skin tone, no pigmentation spots
Skin type: mature skin, young skin, flabby skin, tired skin, couperose skin, acne-prone skin, sensitive skin, normal skin
Benefits: brighter and smoother skin, luminous skin
Texture: lightweight, water-based serum
Age: from 25 to 70 and more

Nanoil Vitamin C Face Serum: Description
The elixir of youth in a bottle. Nanoil offers a deeply nourishing, firming and brightening anti-ageing serum. It was developed to address the needs of tired, lifeless and dull skin with pigmentation spots. It exposes complexion to an intensively deep conditioning treatment for reduced wrinkles and removed discolorations. Nanoil face serum fast tracks your way to improve skin's resilience and leave it simply flawless. The advanced formula is enriched with an extract taken from the Punarnava plant growing in India. Together with vitamin C, they bring the actual benefits to skin in the form of smooth and perfectly-looking complexion with no wrinkles or pigmentation spots.
This serum maintains hydration levels and delivers a soothing effect to tired skin. Throughout the entire day the face is shielded from free radicals, infamous for accelerating ageing processes. Lastly, vitamin C also provides sun protection.
Nanoil Vitamin C Face Serum: Benefits
KEY BENEFITS Nanoil serum stimulates collagen production and improves appearance of all skin types, including tired-looking and sensitive skin.
EFFECTS AFTER 1ST USE Brighter, pleasant to the touch and smooth skin
EFFECTS AFTER 2 WEEKS Even skin tone, visibly younger-looking complexion
EFFECTS AFTER 6 WEEKS Brightened pigmentation spots, removed imperfections, clearly reduced wrinkles, improved resilience. Skin looks clear and spotless.
How to use Nanoil face serum
Take a couple of drops of the serum and massage into cleansed skin, wiped with a face tonic. Follow with a face cream.
As mentioned before, Nanoil Vitamin C Face Serum is a universal product which means that not only is it suitable for all skin types but it can be also used morning or/and evening. This brightening serum penetrates skin in a few seconds without leaving any greasy feeling. Another important issue is that you do not have to avoid sun exposure if you are using Nanoil vitamin C serum – just make sure that you apply some SPF before leaving home.
More information about face serum is available on the official web page: nanoil.us.