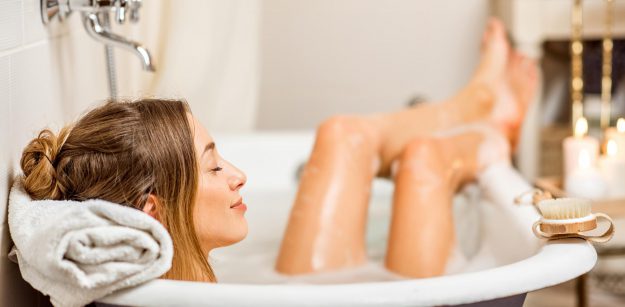 Dry Skin on Legs? Get Rid of the Problem Easily!
The condition of the skin may change dramatically in the wintertime. Try to avoid the hated dryness and tightness. How to prevent dry, flaking skin looking ugly? Try these 3 tricks and the best products to nurture the skin in the fall and winter!
How to get rid of dry skin on the legs?
1. Dry body brushing
Have you ever come across dry body brushing? It detoxifies, stimulates the blood flow, plumps up and helps remove the dead and dry skin cells. Get a widely-available, natural-bristle brush with a convenient handle for easier use. Start massaging your feet and move upwards, using slow and gentle motions. Some dry skin patches will be gone after just one massage. Remember to use suitable body lotions afterwards.
2. Good moisturizing and protective lotion
An ideal wintertime product should be thicker and more greasy to leave a layer that protects the skin against drying out or irritations. Use your lotion twice a day to keep replenishing the essential emollient substances that are necessary for the skin.
3. Starch bath
Believe it or not, starch makes a brilliant beauty product! Pour some starch into a bathtub filled with warm water (3 liters of water and 6 heaped tablespoons of starch). Have a lie-in for fifteen minutes. Do the bath 2 or 3 times a week. Dry skin on the legs will soon be just a memory.
Products that help care for very dry skin.
Nivea Body Lotion. It is greasy but lightweight, not leaving a sticky coating on the skin. It has a superb conditioning effect and a lovely aroma.
Garnier Body Repair Lotion

for very dry skin. It's been labeled the discovery of the year and it's still one of the best-selling body balms. We love it for everything: aroma, texture, effect and price.

Johnson&Johnson Oil Gel

. This is an iconic baby-care product. Oil-gel is lightweight and smooth, not smudging the clothes. It perfectly conditions the skin for no more dry legs!

Mixa Rich Body Lotion

. This is a professional and long-lasting lotion which handles even serious skin problems. It perfectly repairs the skin, hydrates, smoothes out and minimizes coarseness. The skin is elastic and soft.

Fenjal Body Lotion

. It has a wonderful smell and is lightweight, perfectly conditioning and keeping skin hydrated for hours. It prevents irritations, fights the unwanted feeling of tight skin, eliminates roughness and triggers skin repair process. If your skin of the armpits is dry too, try Fenjal deodorant roll-on with an intense conditioning effect.