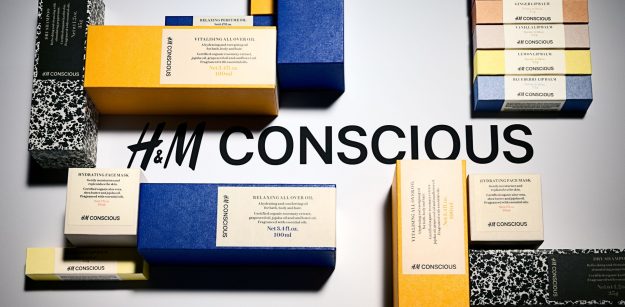 H&M Conscious Beauty Collection – In Shops since February
In February on shops shelves settled newest H&M organic cosmetics line – Conscious Beauty Collection. In the offer of this line we will find 30 cosmetics, e.g. face masks, deodorants, shampoos, gel showers, hair oils and hand creams. Very encouraging is not only the price, but also original design.
Eco changes in H&M
Swedish H&M introduces dynamic changes in their offer, and it's all to draw more clients to their brand. We cannot deny it that offered so far changes bring first effects. Most tempting are packagings modelled on those of luxuries brands like Marc Jacobs, which aren't as tacky as they were. It is worth mentioning that newest Conscious Beauty cosmetic line was placed in fully ecological packagings made out of recycled materials. The products itself are also ecological, and proves it obtained Ecocert – it guarantees that at least 95% of the cosmetic composition is natural.
H&M Conscious Beauty Collection
This high-street shop already had Conscious cosmetic line in their offer; products manufactured according to balanced development rule. Since February in shops is available its sister line, i.e. Conscious Beauty Collection. H&M Conscious Beauty is a line of body care products with double effect:
vitalising, thanks to nourishing ingredients of fruit extracts,
relaxing, thanks to aromatherapy with soothing ingredients.
Among organic products in this line we will find 30 different cosmetics designed for hair and body care. H&M says only that collection will be full of e.g. face masks (three types), lip balms (in five tastes: blueberry, vanilla, lemon, cinnamon and raspberry), shower gels, shampoos (also dry) and hand creams. We can also buy roll-on deodorant without harmful aluminium, but further we can get an innovative product of this brand – hair oil.