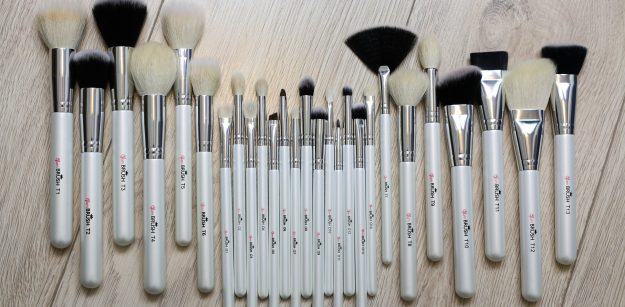 GlamBrush – make-up brushes from Polish Blogger
Make-up lovers as well as the professional make-up artists agree on one thing, that to buy really good brushes in the price that won't bring you to your knees is almost impossible. GlamBrush is an answer to those needs – Polish make-up brushes have an accessible price and are modelled upon iconic MAC brushes.
GlamBrush is a product from make-up vloger Hania Knopińska-Grzenkowicz from channel digitalgirl13. GlamBrush are a hit in a Polish blogging world and they are selling in an impressive pace. Hania's brushes contain all the necessary brushes for eye and face make-up and were inspired with world famous MAC brushes. By entering the market, GlamBrush became strong competition to brands such as: Maestro, Inglot or Hakuro. They stand out with original pearl-white design, which is new on the make-up brushes market.
Brushes from digitalgirl13 are available in GlamShop individually or in sets – a set of 9 models GlamBrush SS, basic set of 18 brushes and Full Set Glam Brush (27 pieces). We'll find there all necessary brushes for standard and more advanced make-up – those bigger for the face are marked with letter T like "twarz" (face), and those smaller and more precise are for eyes and are marked with letter O like "oczy" (eyes). Name, logo, colour and shape of the brushes are fully thought-out.
What are the advantages of GlamBrush set?
Competitive prices against other popular brands.
Possibility of purchasing the brushes separately or in sets.
Wide choice of shapes.
Special pearl-white design.
Made out of the best quality of materials.
High durability and obsolescence.
It is impossible to not mention the quality of GlamBrush from Hania (digitalgirl13). They are exceptionally soft, delicate and perfectly chime with make-up cosmetics, synthetic and natural brushes. Part of the brushes were made out of natural, non-dyed goat hair, and you can feel it but also smell it. Rest of the brushes is made out of safe and soft synthetic materials. Haft of the brushes is a light wood and an entire quality of them invite us to buy them and test it on our own faces.