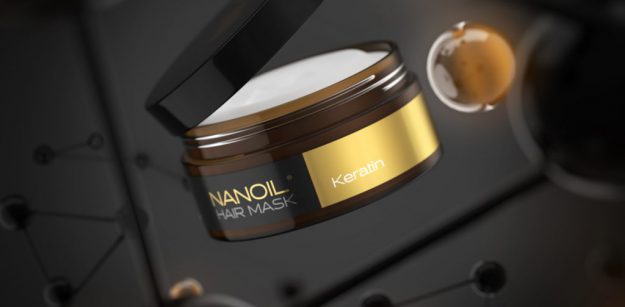 Hair Repair with Nanoil. We're Testing Keratin-Rich Mask for Damaged Hair
Frazzled hair needs a special treatment – this is obvious, but succeeding at reversing damage may be pretty challenging. We know it too well therefore we're testing products such as Nanoil Keratin Hair Mask – a mask that repairs hair due to liquid keratin. Is it a cosmetic that has a change to revolutionize at-home treatments for weak and frazzled hair? Let's find out!
Nanoil offers as many as five hair masks – apart from the keratin, there are also masks enriched with argan oil, liquid silk, marine algae as well as charcoal and white clay. Each one of them was developed to satisfy the needs of various hair types, and this means that each one of us will find a perfect hair product for themselves.
Hair mask HIT. Nanoil Keratin Hair Mask
It seems that the most popular among all five Nanoil hair masks is the one enriched with keratin, and its task is to repair damaged strands, improve health and bring back the stunning looks. Nanoil goes for quality and high performance, and this approach to hair care is appreciated and recognized not only by thousands of women around the globe but also by the professionals from the beauty industry. Since Nanoil hair masks can be found in many hair salons, why wouldn't you take advantage of what Nanoil Keratin Hair Mask offers? Especially that you don't even have to leave your home to do so!
Who is Nanoil keratin hair mask destined for?
Reaching for keratin hair mask by Nanoil is a good idea when your hair is weak, brittle and damaged. This formula was created from ingredients that are proven to have a huge hair repair potential, and therefore this product should be used when:
your hair is damaged due to hot styling.
the hair is overprocessed (e.g. due to color-treatment, bleaching).
hair ends get brittle and split.
your hair is prone to static and frizz.
the strands are clearly dehydrated, dull and coarse.
hair thins out uncontrollably.
Rescue for damaged hair – hydrolyzed keratin
The secret of this regenerating hair masks from Nanoil is keratin, obviously. What may not be so obvious is that the keratin added to this product isn't regular – it is hydrolyzed keratin. This is a protein whose molecules are so tiny, thus able to penetrate hair deeply in order to reverse damage, beginning from the innermost layers of hair. This means that there is no other better solution that frazzled hair could be provided with. Owing to the very hydrolyzed keratin, Nanoil Keratin Hair Mask is able to reconstruct the hair amazingly quickly and effectively, leaving strands stronger day by day. You can feel this power of protein.
However, Nanoil Keratin Hair Mask is more than just keratin. This cosmetic is also formulated with panthenol and lightweight, hair-taming silicones that are easy to wash out. Together with keratin these ingredients take good care of the hair, keeping it healthy and perfectly-looking.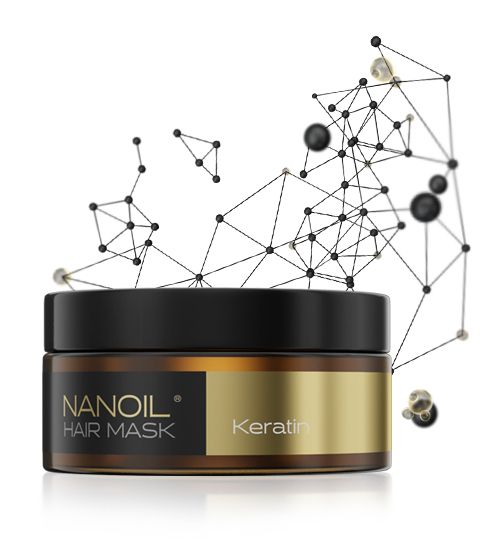 What is the Nanoil keratin hair mask?
All the ingredients are closed in a creamy textured hair mask whose amazing aroma stays on hair long after the treatment. This is a really well-developed hair product – not only because of the ingredients and effects they produce but also because of the lightweight formula, ease of use and the sheer pleasure that this home hair treatment brings. Without doubt, Nanoil Keratin Hair Mask deserves the title of the best hair mask. This product can be recommended to everyone who has a problem with brittle and damaged hair that splits.
Use of Nanoil Keratin Hair Mask
Is this hair product difficult to use? No, not at all! Nanoil proves that home hair treatment can be as efficacious as in-salon treatments, but a lot simpler and less time-consuming. Using keratin hair mask by Nanoil can be summarized to just three steps.
Wash the hair.
Spread a portion of the hair mask along the strands.
Rinse after 15 minutes.
Only this little is required for your hair to become fabulous. If you find your strands problematic, weak, brittle and dull, using Nanoil Keratin Hair Mask may be the right thing to do. Why? Because it's highly possible that your hair lacks keratin.
More information on Nanoil Keratin Hair Mask can be accessed on: [www.nanoil.us]