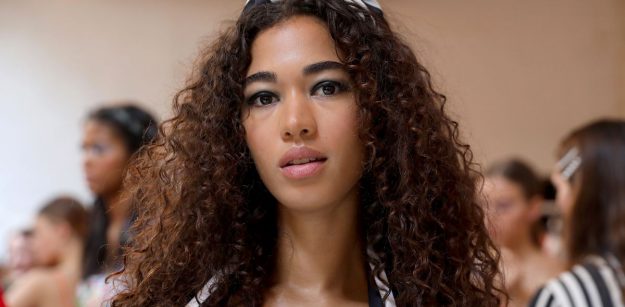 TOP 6 Keratin Masks: What Does Your Damaged Hair Really Need to Recover?
Keratin hair smoothing treatment is still popular but it is good you know that similar effects can be achieved at home. How? By using a keratin hair mask. Which one to choose for the best results? You can learn that in today's round-up featuring the best masks infused with keratin.
Every woman comes to a point in her life when she starts to think about hair care more seriously. It usually happens when we spot hair getting dry and brittle. Looking for causes and remedies, we realize caring for a hairdo is not so easy.
What does your damaged hair really need?
Moisturizing: water is essential. 75% of our body is made from water. If you don't maintain optimal moisture in your hair, it goes dry, dull and brittle.
Nourishing: hair – any type – also needs nutrients like biotin, zinc, silicon, vitamin E, vitamins B. It is good to deliver them with foods, supplements but also hair care products (conditioners, masks, oils).
Protection: hair needs protection because it is naturally fragile and harmed by many things, including heat, the sunlight (UV, to be more precise), air pollution. You also need to be careful while combing or blow-drying to avoid mechanical injuries.
Repair: any hair needs to be constantly strengthened and repaired because it is impossible to avoid all damaging factors. We need repairing products to keep hair resilient and fabulous-looking.
Keratin: essential ingredient for hair health
There is an extremely important ingredient that must be used while fighting for a lovely hairdo. We talk keratin! What is the secret of this protein and why it is so important to use products packed with it?
The answer is simple: keratin is a protein that our hair is built of. Therefore, repairing hair is impossible without it. When the hair structure is damaged causing breakage and splitting, then only keratin is able to help. Be careful, though. Not any type works. Hydrolyzed keratin works best because it is made from particles small enough to easily penetrate the hair and fix it from within.
Which keratin hair products to choose?
Any product that is rich in keratin will benefit our hair, for example a conditioner or shampoo spiked with it. However, a keratin mask works best because its formula is devised so as to intensively revitalize the inside of hair. All you need to do is use your mask after every wash and leave it in for around fifteen minutes to see both better-looking and healthier hair after a few weeks. A keratin-packed mask definitely makes the best option!
Another question arises, though. Which keratin hair mask is the best? You can get the cheapest or nicest-packaged one. You can also choose an easier option and read our comparison review of masks. Here are 6 best products that are worth your pick.
THE BEST KERATIN-PACKED HAIR MASKS
1. Nanoil Keratin Hair Mask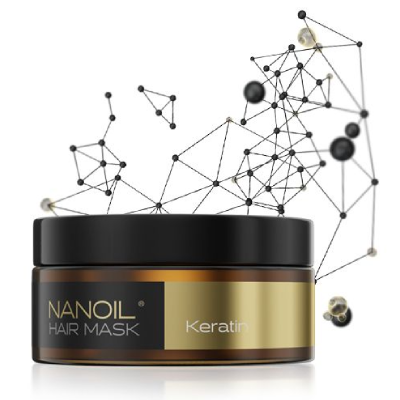 A mask by Nanoil justifiably holds the crown and is irreplaceable when caring for dry, damaged, brittle and splitting hair. Nanoil offers the entire keratin line so it's good to try all of the products. Still, even the keratin mask alone can work wonders and tweak the hair look.
Nanoil mask brings smoothness and makes hair effortless in detangling.
It restores healthy shine.
It revitalizes external and innermost layers of hair.
It prevents damage.
It repairs and shields splitting-prone hair ends.
It makes hair resilient, reducing breakage and brittleness.
Nanoil Keratin Hair Mask is based on hydrolyzed keratin and panthenol, and that is why it brings so many benefits. It has very beneficial ingredients, is lightweight, and smells like heaven. It will make your hair repair run smoothly!
Size: 300 ml
For more information visit: www.nanoil.us
2. Phyto Phytokeratine Extreme Mask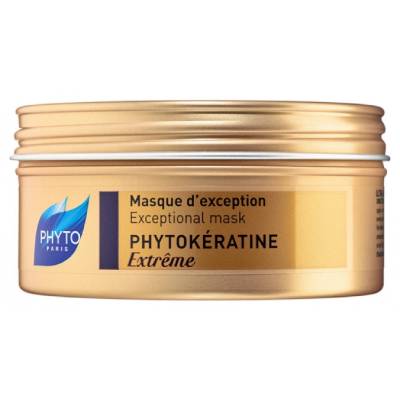 A product from Phyto, that is Phytokeratine Extreme Mask, comes second. It is much more expensive but designed for the same hair type: fine, brittle, weak hair. Regular application of the Phyto mask:
ensures in-depth nourishment.
brings softness and healthy shine.
reconstructs damage inside of hair.
protects against loss of moisture.
guarantees bounce and strength of hair.
The benefits flow from the plant-derived keratin which imitates real protein building our hair. It is blended with shea butter, sapote butter and baobab oil creating an interesting (but quite thick) mask for damaged hair.
Size: 200 ml
3. BC Oil Miracle Restorative Mask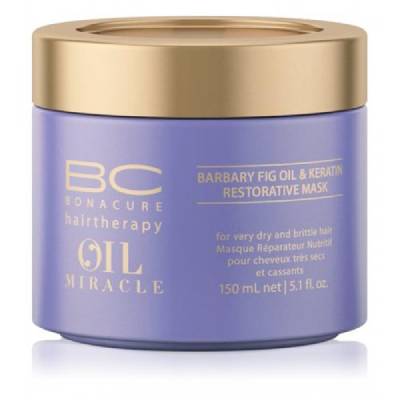 Another keratin-based mask for damaged hair comes from a professional salon brand, Schwarzkopf, BC Bonacure Hairtherapy Oil Miracle. This hair-repair mask is quite budget but it is pretty thick and small-sized. However if you feel like giving it a try, you will see it effectively:
repairs and strengthens weak hair.
nourishes and moisturizes.
delivers softness, smoothness and shine.
fixes orange tones in blonde hair.
This mask is a good choice if hair is dry, dull and damaged, but mostly when you want to care for a hair color: the mask neutralizes the orange tones in blonde, bleached and gray hair. Plus, it revitalizes hair thanks to combining micro-keratin with prickly pear oil.
Size: 150 ml
4. Goldwell Kerasilk Control Mask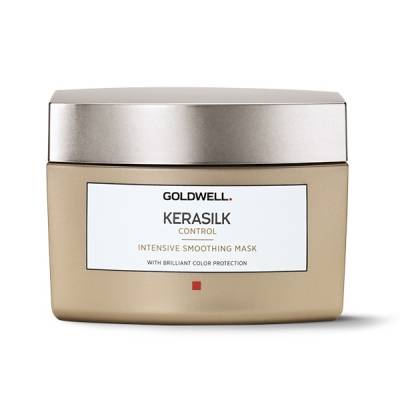 Among top masks recommended by experts there's room for intensively-smoothing Goldwell Kerasilk Control. This product is made for unruly, rumpled, frizzy, unmanageable hair, and really brings lots of benefits.
It repairs, strengthens, and protects.
It smoothes and makes hair silky.
It protects hair color.
It ensures healthy shine.
It makes brushing easier and tames unruly strands.
Goldwell Kerasilk Control Intensive Smoothing Mask holds two ingredients that benefit the hair: keratin and liquid silk. Thanks to them, the mask handles really unruly hair. It is lightweight and you can leave it in for only 5 minutes to see the difference. A high price is definitely a thing that we don't like about this product, though.
Size: 200 ml
5. Wella Sp Luxe Oil Keratin Protect Mask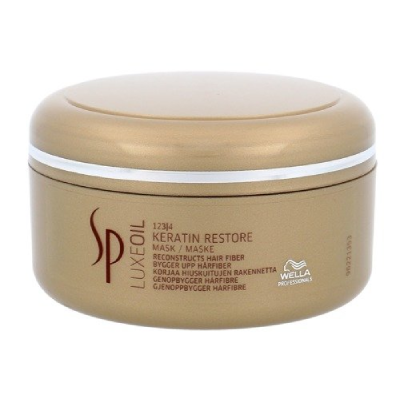 Another mask that enhances weak hair which tends to split or break is offered by Wella. You may be encouraged by the bigger size and good reviews in which the following benefits crop up:
it repairs hair and restores health.
it softens and smoothes hair out.
it enhances color and shine of hair.
it makes hair resistant to damage.
it makes hair bouncy.
Obviously, the effect isn't accidental. Wella SP Luxe Oil contains liquid keratin, and a blend of natural oils labeled as System Professional. The mask is smooth and easy to use, and you don't need to leave it in for long, 3 minutes will do.
Size: 400 ml
6. Montibello Keratin Force Mask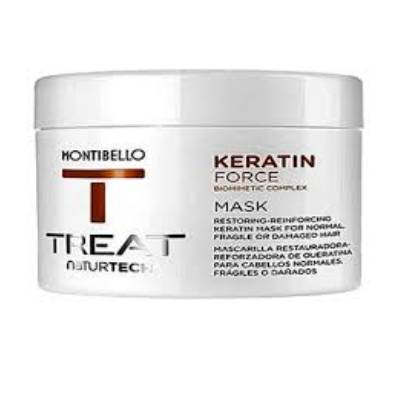 Finally, an item for a lower price. Montibello Keratin Force Mask belongs to the Treat Naturtech line that combines achievements of cosmetology with natural ingredients. The product works well on weak, damaged hair, and enhances fine, delicate strands. After a few uses you will see it:
deeply nourishes and revitalizes.
makes hair more resistant to damage.
prevents brittle, split ends.
makes hair smoother and easier to comb out.
shields against heat styling damage.
The formula is packed with some beneficial ingredients. Apart from the "titled" keratin, the mask contains plant proteins and guar gum. These components strengthen the hair and protect it from future damage. The product isn't all-natural but it's quite easy to use.
Size: 200 ml