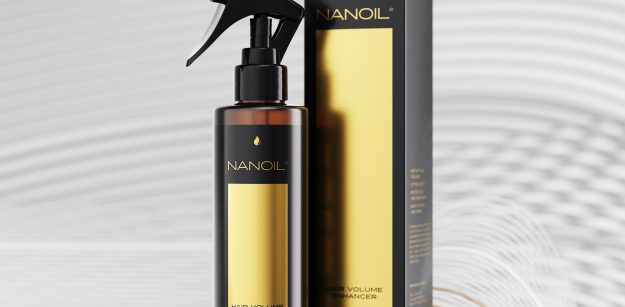 Nanoil Hair Volume Enhancer Spray: Instant Volume Boost for Fabulous Blowouts
All iconic cosmetics have three main distinguishing features in common: they are multi-taskers, deliver quick effects, and once you use them, you can't imagine your life without them. And this noble group of iconic beauty products has just welcomed another prominent member – Nanoil Hair Volume Enhancer designed to transform lifeless hair into fuller-looking blowouts.
Let's be honest – big thanks to the person who came up with the idea of creating the volume enhancers! For so long women were forced to spend long hours in front of the mirror, trying to arrange bigger-looking hairdos using blow dryers, curlers, backcombing brush and hair powder. And it wasn't easy! Luckily, we don't any longer need to sleep with hair rollers to get the desired look! All we need to do now is use a hair volume enhancer!
Reports show that the volume boosting products are currently one of the best-selling hair care products. But are they all the same? Obviously, they are not! Therefore, today we're going to bring you closer to one of the top-rated volume boosters that won't ruin your budget. Here's what makes Nanoil Hair Volume Enhancer stand out.
Nanoil Hair Volume Enhancer: Dream team of nutrients
First, we need to understand what makes Nanoil Hair Volume Enhancer so good at delivering the promised results. And this is mainly owed to the ingredients the formula is made from. Here is a short list of the main ingredients
Wheat proteins are in charge of fixing damage in hair, making it stronger and resistant to physical external agents. Additionally, wheat proteins are able to stop hair from getting frizzy or static.
Keratin is responsible for adding more body to the hair without weighing it down. Apart from that, this protein leaves hair fuller-looking, shiny and elastic.
Panthenol deals with unruly hair and adds shine. It's also responsible for locking moisture inside which combats brittleness and splitting.
Apart from these key ingredients, Nanoil Hair Volume Enhancer also contains polyquaternium-70 that is responsible for creating a weightless coating around the hair to keep it safe from damage. This in turn makes combing easier, which minimizes mechanical damage that is caused when the comb rubs against the hair. Together, the ingredients create a hair styling spray that delivers nutrients and aids in arranging desired hairdos.
Go for a fuller & more voluminous look with Nanoil Hair Volume Enhancer
Nanoil found a way to add more volume to hair without making the style awfully stiff and unmovable. This quality makes it a perfect product for those who're looking for quick, lasting and natural-looking effects. Nanoil Hair Volume Enhancer is supposed to be applied to the hair using the atomizer it's equipped with. The lightweight formula lifts roots, making the whole hairdo look fuller and fluffier.
The 6.76 fl. oz / 200 ml bottle guarantees long months of use. You don't have to worry that you may accidentally use too much product because just 3 or 4 pumps are absolutely enough to cover the hair with the spray. Indeed, such a small amount distributed along the strands suffices to create the effect of lifted and shiny hair. And the best part is that Nanoil Hair Volume Enhancer doesn't only help you create voluminous blowouts but it also shields the hair from the adverse effects of UV, low temperatures and wind.
The good news is that Nanoil Hair Volume Enhancer is a multi-tasker, meaning that it handles a few things at the same time. Nanoil spray:
gives instant volume boost to hair
creates fullness at the root
smooths out and moisturizes
makes hair easier to style
adds more body to the hair
helps a comb glide smoothly along the strands
promotes shine
If you need more information about Nanoil Hair Volume Enhancer, visit nanoil.us. On the official Nanoil website you can browse other styling sprays and hair care products designed for various hair types. See what Nanoil has in store for you and turn your daily hair ritual around.