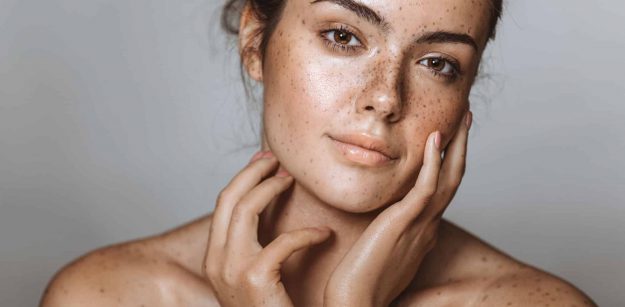 Cosmetic Argan Oils: The list of the best products
Do you know the best argan oil for skin and hair? If you are not sure which cosmetic oil to choose, scroll down to check out our offerings!
We have tested The Top Seven – 7 argan oils that are the most commonly chosen not only for beauty treatments but also are recommended by the professionals. We compared their properties, effects and quality in order to help you make the right choice and pick the natural argan oil which will give you nothing but benefits. The oils listed below are arranged starting from the best product.
However, before moving on to the offerings, it is worth taking a short moment to realize what makes a particular oil better than the others. Here are the determiners of the high quality argan oil – the factors that should be taken into consideration while choosing the most suitable vegetable oil for yourself.
A good argan oil is…
MOROCCAN – argan oil cannot be called "good" unless it is genuine, meaning that it must originate from Morocco, which is the place where argan trees grow.
COLD-PRESSED – of huge importance in terms of vegetable oils – not only argan oil – is the method used for the extraction. The best vegetable oils are cold-pressed because only then they preserve all their precious nutrients that high temperature destroys.
UNREFINED – for cosmetic purposes unrefined oils are definitely better, and these are the oils that do not go through a purification process that may deprive the oil of its precious nourishing substances.
CERTIFIED – while choosing argan oil, it is suggested looking for the oil that is given a quality mark proving its eco-friendliness, e.g. Ecocert.
NATURAL – a lot is being said about the naturalness of beauty products, yet in reality only few of them are 100% natural. In most cases, the products labeled as "argan oil" also contain some additives such as colorants or fragrances – a high quality argan oil must not contain such ingredients. Otherwise, the risk of irritation in people with sensitive skin increases dramatically.
VEGAN – no argan oil (nor any other beauty product) should contain animal-origin substances. It should not be tested on animals either.
The best argan oils of all
Now it is time to present the best offerings. We are sure that among them you will easily find a product that has all of the above-mentioned determiners of the high quality. Here are the best argan oils in cosmetics. The top oils that are worth having at home and being used regularly!
1. Argan oil, Nanoil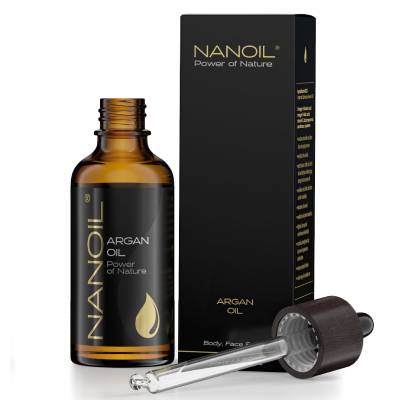 Undoubtedly, there is just one top argan oil and its name is Nanoil Argan Oil. This is 100% cold-pressed and unrefined oil, completely free from additives. It is worth pointing out that this oil is perfect for everybody, without exceptions. Nanoil Argan Oil is nothing but nature that can be used by youngsters and adults, by those whose skin is dry or oily, whose hair is low, medium or highly porous – it is even safe for allergy sufferers and vegans. This elegant oil is closed in a 50-ml bottle made of dark glass (protects the oil from the sunlight). A convenient dropper eases application, no matter if you want to distribute a few drops over the face, body or hair. Argan oil from Nanoil is also a source of potent antioxidants which means that it rejuvenates skin. Having natural UV filters, Nanoil Argan Oil is a perfect sunscreen and a sun aftercare product. It improves resilience, smooths out and leaves skin more beautiful. When it comes to hair benefits, argan oil from Nanoil repairs the damage, strengthens and leaves the strands more lustrous. Another good thing is that Nanoil Argan Oil can be applied to lashes, eyebrows and even nails to make them better-looking and conditioned. You can find more information on argan oil from Nanoil – its benefits and uses – on the official website: nanoil.us
2. Argan oil, The Ordinary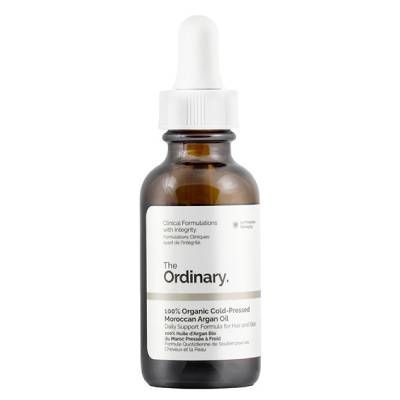 Quite an interesting offering is presented by The Ordinary, a brand that most users associate with a wide offer of face serums. This argan oil also comes from Morocco and its design resembles other products launched by this cosmetic brand. Since it is cold-pressed, this argan oil contains huge concentrations of oleic and linoleic acids. Unfortunately, even though the bottle holds only 30 ml of the oil, the price is not reduced adequately. However, if you would like to check the effects that The Ordinary is able to create on your hair and skin, go ahead and give it a try, especially if your skin is dry, sensitive, mature or couperose – the oil will improve resilience, restore moisture to the skin and slow down ageing. This is a vegan-friendly beauty product that was not enriched with any additives. Argan oil from The Ordinary preserves its qualities for six months after you unscrew the bottle for the first time.
3. Argan oil, Moroccanoil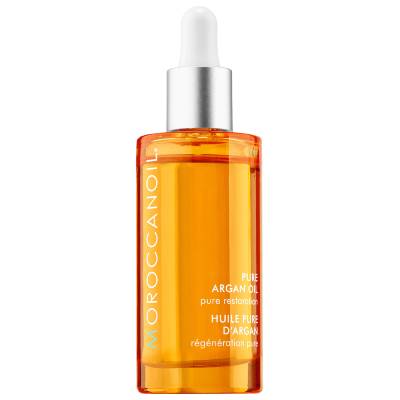 Moroccanoil brand is famous for adding argan oil to all its beauty products. In most cases though, this is only one of the ingredients that make up a cosmetic. Pretty recently the brand has introduced a pure 100% argan oil into their offer, destined for body, face and hair care. It has 50 ml, is golden and well-absorbing. This argan oil is closed in a glass bottle that comes with a dropper, and this product's design differs from the majority of Moroccanoil cosmetics kept in a light blue colour scheme. The price, however, is typical of Moroccanoil brand – this is the costliest argan oil on this list. Still, this product has some pluses like for example the fact that it is cold-pressed and unrefined, meaning that it offers maximum nourishing substances (vitamin E, phytosterols, antioxidants) and is able to effectively moisturize, nourish, smooth out and adds shine.
4. Argan oil, BaByliss PRO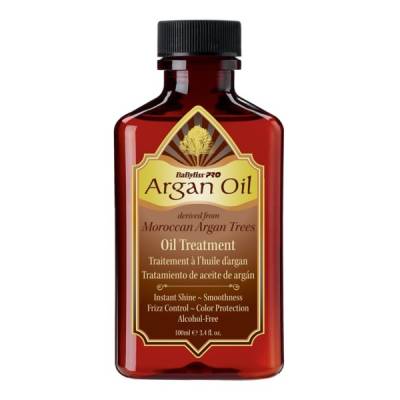 Few know that BaBlyss brand offers not only hair styling tools such as hair dryers or curlers but also fairly good hair care products. Argan oil from BaBlyss is one of them – the hair oil treatment for smooth, glossy and frizz-resistant hair. It is closed in a regular bottle of 250 ml. Although the size of this product may be considered as a plus, it must be realized that this is not 100% argan oil. It appears that this vegetable oil is just one of the constituents, while the remaining ones are silicones, preservatives and even… colorants. Still, this oil can be applied to wet and dry hair to improve its appearance. It is not suitable for skin.
5. Argan oil, Nutridome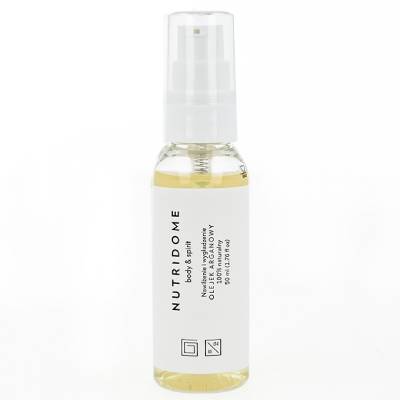 Nutridome and its argan oil has been slowly gaining in popularity. This inconspicuous argan oil is closed in a slender bottle storing 50 ml. Minimalist design looks really good with the gold oil that the bottle hides inside. The pump dispenser that the bottle comes with eases the application of the product. It must be pointed out that argan oil from Nutridome is destined for hair care, meaning that it is not suitable for skin treatments. While talking about hair treatments, this argan oil protects the strands from damage, makes them stronger and promotes growth. Additionally, Nutridome argan oil is a 100% natural beauty product whose richness of vitamin E, omega acids and UV filters helps it not only nourish but also provide protection to the strands.
6. Argan oil, Natur Planet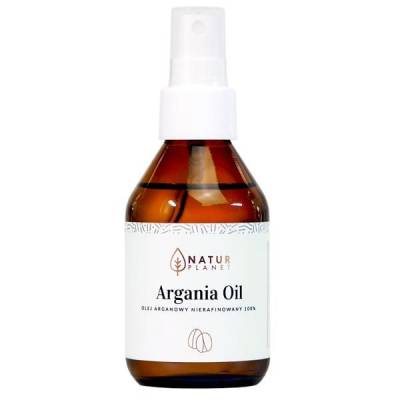 A very minimalist packaging of argan oil from Natur Planet hides equally minimalist composition – 100% argan oil. This oil is unrefined and cold-pressed so it is not deprived of precious nutrients such as vitamin E and F as well as unsaturated fatty acids. This product is available in two sizes: 30 ml bottle with a dropper and 100 ml bottle with an atomizer. Argan oil from Natur Planet is pretty universal and multi-purpose – it can help you take good care of mature and fatigued skin by replenishing it with moisture and nutrients. If you apply this oil to the hair, it should help you repair damaged and dehydrated strands that soon they become stronger and bouncy. No doubt, the price of Natur Planer argan oil is tempting.
7. Argan oil, Mila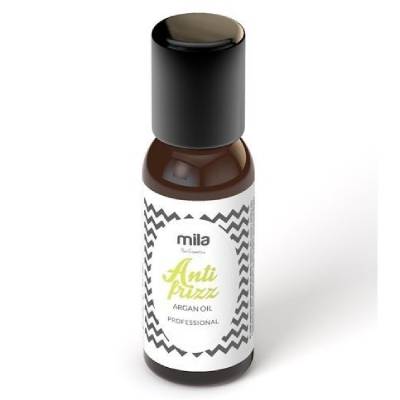 When it comes to unusual argan oils, which are worth your attention, is this intriguing offering – Mila Anti-Frizz Argan Oil available in a 30-ml bottle. This is a regular cosmetic oil destined for frizzy and static hair, and its main task is to tame the unruly wisps. Additionally, argan oil from Mila eases combing, intensifies hair shine and smooths strands out. The price is not high which sadly is reflected in its composition. To clarify, pure argan oil is combined with fragrances and silicones, which is exactly why it is able to deliver smoothness to the strands (just 2 drops per application are enough, no rinsing required). This argan oil is recommended for all hair types, yet it should not be used for skin treatments.